Without Child: Challenging the Stigma of Childlessness
Listed by Members of Childfree Passions
The books listed below are pulled from member's favorite book submissions.
By voting on the books listed, you can help to determine whether a book is related to the theme of Childfree Passions, or whether it is a non-related, but popular, book among the members of the site. If you believe a book in the list below is 'on theme' with Childfree Passions, vote that it is relevant. (If you don't know, just skip it.) Over time, we hope to have a library of books that should be of interest to Childfree Passions members.


Calling All Readers! Like The Site Library?
Help Spread The Word...Tweet Our Crazy Awesome Awesomeness!
Sponsored Ad
go back to library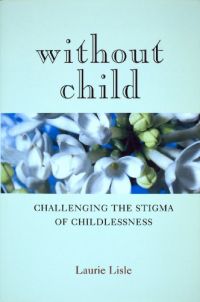 (click to view book on amazon.com)



Laurie Lisle
In a society in which most women grow up thinking they will become mothers-and in which many women go to great lengths to make that desire a reality -- not having a child is often met with incredulity and scorn. But as the author of this thoughtful and meticulously researched examination of childlessness points out, childless women are part of an ancient and respectable cultural tradition that includes biblical matriarchs, celibate saints, and nineteenth-century social reformers.

People who list this book:



go back to library
Childfree Sites
Why No Kids?!
Online Dating Sites
Webcam Sites
Personals / Chat Sites
Miscellaneous